Crostatas are divine.  They are the perfect balance of pastry and fruit.
1 pastry recipe (instructions below)
2  c. blueberries, picked over
1 t. lemon juice
¼ c. sugar
2 T. cornstarch
pinch of salt
1 T. butter, cubed
Parchment Paper, cut around 12" x 15"
In large bowl, stir together the blueberries, cornstarch, sugar, salt and lemon juice. Set aside.
Lightly flour parchment paper. Place dough on paper, and roll into approx. 13 inch diameter circle.
Place the blueberry mixture on middle of the rolled dough.  Dot the blueberry center with chunks of the butter.
Use the edges of the parchment paper to fold the edges of the crust up and inward, so that it covers 2 to 3 inches of the blueberry mixture.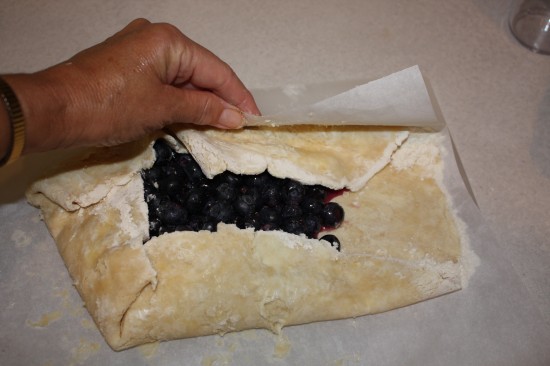 Lift the crostata up by using the parchment paper and set the crostata on a foil-lined baking sheet.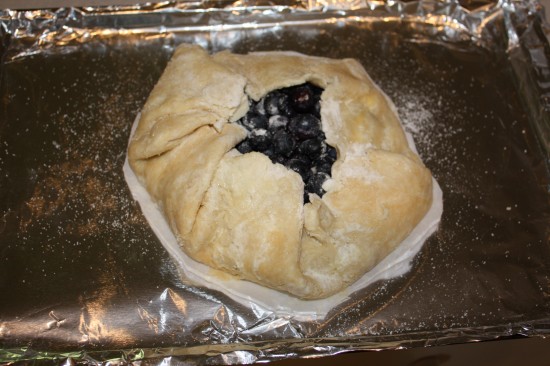 With scissors, cut the parchment paper in a circle, about an inch from the edge of the crostata.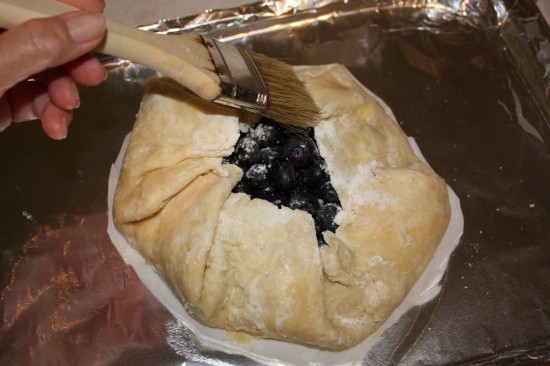 Set oven to preheat to 425 degrees.
Place the baking sheet with the crostata in the refrigerator to chill for 20 minutes.
Brush dough lightly with water and sprinkle with 1t. sugar
Bake at 425 degrees for 10 minutes, then lower to 375 degrees and bake about 25-30 minutes, until golden.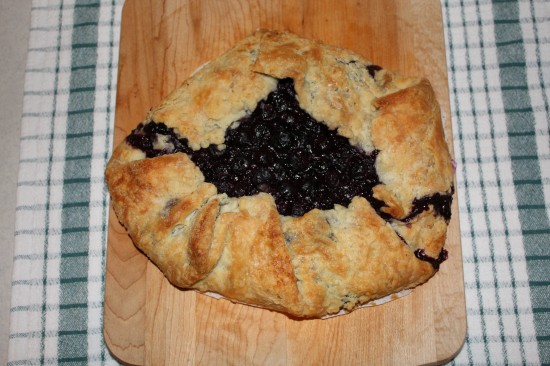 Allow to cool slightly.
Slide 2 spatulas under parchment paper and lift crostata to cutting board.
Slide the parchment out from under crostata, and let cool thoroughly.
When ready to serve, take crostata on the cutting board to dining table, and cut into wedges.
Perfect Pie Crust:
1 ½ c. all-purpose flour, plus more for dusting
½ t. salt
1/3  stick cold butter
1/3  c. chilled vegetable shortening
1/2 egg (lightly beat 1 egg and pour half off)
2-3 T. cold water
1 ½ t. distilled white vinegar
NOTE:  If making an all butter pastry, use 2/3 c. butter and omit shortening
Combine the flour and salt in a large bowl.
Add in the butter and shortening. Using a pastry cutter or your fingers, gradually work the butter and shortening into the flour until the mixture resembles tiny pebbles.
Add lightly beaten half egg to the mixture.
Sprinkle the cold water and vinegar over the flour mixture while flipping flour mixture around with a fork. Stir the mixture together with the fork until it's just combined, and then remove dough from the bowl.
Shape dough in a disk and wrap with plastic wrap.
Let dough rest in refrigerator about 5 minutes.
NOTE: Butter pastries like this must be worked with quickly, and not allowed to warm. If dough seems to be getting too warm or soft, simply chill in refrigerator 5 minutes.
Apple Variation:
See Apple Crostata